Top-Rated home Cleaning Services In San Antonio, TX
Maids On A Mission provides high-quality residential home cleaning services in San Antonio. All of our residential cleaning services are designed to get your home clean, sanitized and springtime fresh.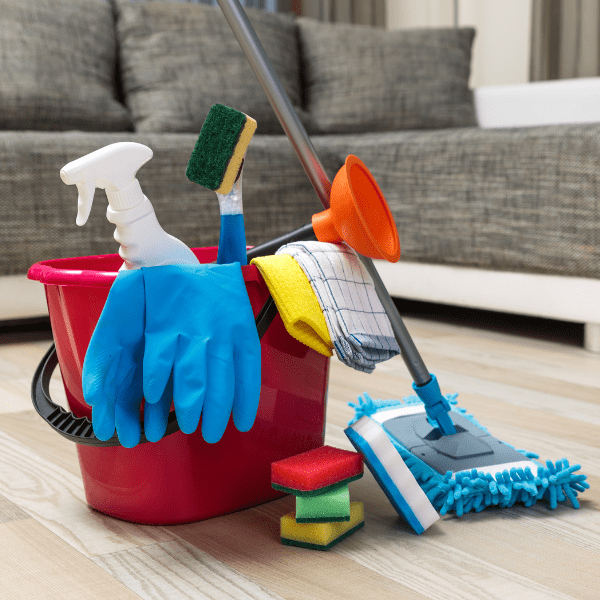 San Antonio Home Cleaning Services You Can Count On!
Follow Your Dreams While We Clean!
Keeping your home or apartment clean can be a daunting task, especially if you have a busy schedule. That's where Maids On A Mission comes in. We are a locally-owned and family-operated home cleaninservice that provides top-notch professional cleaning services in San Antonio, TX, and the surrounding areas.
Our team of experienced cleaners is dedicated to ensuring that your space is not only sparkling clean but also healthy and safe for you and your family. Want to see for yourself why we're rated #1? Read some of our many 5-star reviews from Maids On A Mission's happy customers.
Our Professional home Cleaning Services
8 Great Reasons To Hire Our Home Cleaning Service
Hiring a professional home cleaning service in San Antonio, TX offers many valuable benefits for homeowners and families. Here are some of the best reasons to consider hiring a residential cleaning service:

Hiring a professional home cleaning company is a big time saver for you and your family

 Life can be busy, and cleaning your home can consume a significant amount of time and effort for all the members of your household. Hiring a professional cleaning service frees up everyone's schedule for other priorities. We love that when we do the cleaning, you and your family have more time for all the things that make life special.

A Deeper, higher quality Home Cleaning

Professional cleaners can tackle deep cleaning tasks that are often overlooked during routine cleaning, such as baseboards, vents, and appliances. Our professional home cleaners in San Antonio are trained to properly and completely clean your home using professional-grade equipment and cleaning products that can achieve a level of cleanliness that's challenging to replicate with household products.

A professional cleaning service has many Health Benefits

A clean home promotes better indoor air quality and reduces allergens and pollutants, which can be especially beneficial for those with allergies or respiratory conditions. Additionally, sanitizing often-touched surfaces throughout the home prevents the spread of viruses. 

Help For Special Occasions

Cleaning services can be particularly helpful when preparing for special events or hosting guests, ensuring your home looks its best. Other occasions where a professional home cleaning service is helpful are when a family member comes home from the hospital or when there's a new baby in the house. Our sanitizing services ensure a clean and sanitary space for them.

Reduce Your Stress Level By Leaving The Cleaning Tp Us

Outsourcing cleaning tasks can reduce stress and allow you to enjoy a cleaner, more organized living space without the burden of constant upkeep. When you know the house is clean and you can check that off your to-do list your stress level is guaranteed to go down!

Fully insured & bonded San Antonio Home Cleaning Service

Knowing that your home is being cleaned by professionals who are insured and bonded can provide peace of mind. At Maids On A Mission we also ensure that every employee we send into your home has been completely vetted and has passed a national criminal background check.

Maintain the Value Of Your Home

Regular professional cleaning can help preserve the condition of your home, maintaining its value in the long run. In the short run, regular cleaning will prevent damage and repairs that are caused by neglect like soap scum buildup in showers or hard water buildup on faucets and fixtures.

When searching for a home cleaning service in San Antonio be sure to research and choose a reputable company like Maids On A Mission which has hundreds of positive customer reviews and a history of delivering quality service. A clean home not only enhances your comfort but also contributes to a healthier and more enjoyable living environment.
Most frequently asked questions about our professional residential cleaning services
The main difference between a professional cleaning service and an independent cleaner is that a professional cleaning service typically operates as a registered and insured business with a team of trained and vetted employees. They often provide a higher level of consistency, reliability, and accountability due to established protocols and quality control measures. In contrast, an independent cleaner is usually a sole proprietor who may offer lower rates but may lack the resources and infrastructure for thorough background checks, scheduling flexibility, and backup support in case employees call in.
Professional home cleaning services are often more expensive than independent cleaners for several reasons. Firstly, professional services typically have higher overhead costs, including insurance, employee wages, and administrative expenses, which they need to cover in their pricing. Additionally, professional services often invest in training, quality control, and background checks to ensure the reliability and consistency of their staff. They may also use high-quality cleaning equipment and supplies, contributing to their higher costs. While independent cleaners may offer lower rates, they might not provide the same level of accountability, insurance coverage, or quality assurance that professional services do, making the higher cost of professionals worthwhile for those seeking peace of mind and top-notch service.
Hiring a cleaning company with employees is often better than one that uses independent contractors for several key reasons:
Consistency and Reliability: Cleaning companies with employees can provide a more consistent and reliable service because they have a team of trained professionals who are managed and supervised. Independent contractors may have more variable schedules and less oversight, which can lead to inconsistent cleaning quality and potential reliability issues.

Accountability: Companies with employees typically have established protocols for quality control and accountability. They can address any issues promptly and have mechanisms in place for handling complaints or emergencies. Independent contractors may not be as accountable or responsive in such situations.

Insurance and Liability: Professional cleaning companies generally carry liability insurance to protect against accidental damage or injuries that may occur during the cleaning process. Independent contractors may not have the same level of insurance coverage, potentially leaving homeowners responsible for any accidents or damage.

Training and Expertise: Cleaning companies often invest in training their employees to ensure they use proper cleaning techniques and handle cleaning chemicals safely. Independent contractors may not have the same level of training or expertise.

Backup Support: Cleaning companies with employees can provide backup support in case a scheduled cleaner is unavailable due to illness or other reasons. Independent contractors may not have a backup plan, leaving you without cleaning services when needed.

Legal Compliance: Companies with employees are responsible for compliance with labor laws, including minimum wage, workers' compensation, and tax withholding. Hiring independent contractors can sometimes raise legal issues if they are misclassified, potentially exposing homeowners to legal liabilities.

Professionalism: Cleaning companies often project a more professional image and have a reputation to uphold. This can lead to a higher level of professionalism in their interactions with clients, scheduling, and communication compared to independent contractors.
While independent contractors may offer lower rates, the benefits of hiring a cleaning company with employees, including consistency, accountability, and peace of mind, often outweigh the cost difference for homeowners who prioritize a high-quality and reliable cleaning service.
Service Area: Castle Hills, Alamo Heights, Dijon Heights, Greater Harmony Hills, Hill Country Village, MacArthur Park, Northeast Park, Oak Park, Perrin Park, Regency Place, San Antonio, Shady Oaks, Shavano Park, Stone Oak, Terrell Heights, Woodmon, and surrounding areas.
You're going to love your clean house!